Careers and the World of Work
At Wyre Forest School our careers programme is tailored to meet the needs of learner groups and individuals throughout Key Stage 3, Key Stage 4 and Key Stage 5. Our programme consists of learning, advice and experiences across:
Careers
The World of Work
Enterprise
Life Skills
Transition into Adulthood
In December 2017, the DfE produced a Careers Strategy: Making the most of everyone's skills and talents. The document lays out plans to raise the quality of careers provision nationally. It's aims are:
We want all young people to understand the full range of opportunities available to them, learn from employers about work and the skills that are valued in the workplace, and have first-hand experiences of the workplace.
We want all young people in secondary school and college to get a programme of advice and guidance that is stable, structured, and delivered by individuals with the right skills and experience.
We want everyone to get support tailored to their circumstances at any time. All adults will be able to access free face-to-face advice with more support for those it need it most.
We want everyone to get the information they need to understand the job and career opportunities available, and how their knowledge and skills can help them in considering suitable careers.
The DFE Careers strategy names the Gatsby Benchmarks as the measure of excellence in careers provision.
Gatsby Benchmarks:
A stable careers programme
Learning from career and labour market information
Addressing the needs of each student
Linking curriculum learning to careers
Encounters with employers and employees
Experiences of work places
Encounters with further and higher education
Personal Guidance
At WFS we are committed to supporting the transition into adulthood of all our learners through fulfilling the aims of the DFE strategy alongside meeting the diverse needs of our young people.
Follow the link for full details of The Gatsby Benchmarks.
Learning opportunities meeting The Gatsby Benchmarks along with additional real-life experiences can be seen in the following mapping documents:
KS3 Real-Life Opportunities Map
KS4 Real-Life Opportunities Map
KS5 Real-Life Opportunities Map
Wyre Forest School Careers Programme
Our full careers programme is detailed here: Wyre Forest School Careers Strategy and Action Plan
KS3 Careers and The World of Work Curriculum Overview

Year 7

Setting personal targets (KS3 transition)

Personal identity and strengths

Recognise qualities & skills that make someone employable

How can I develop these skills?

Recognise the benefits of being ambitious and enterprising in all aspects of life

Year 8

Identify different kinds of work & why satisfaction with working lives can change

Describe different ways of looking at someone's career and how they develop

Be aware of laws relating to young people and employment

Minimise health and safety risks to yourself and those around you

Year 9

Organisation and structure of businesses

Use Labour Market Information (LMI)

Know how to make plans to help you get the qualifications, skills and experience you need

Identify networks of support and how to access info & guidance

Know how to prepare yourself & present self well during selection process

Develop the skills and qualities required to engage in enterprise

Show you can be flexible and positive at transition points in your life

Reflect:

Tell positive stories of wellbeing, progress and achievement

Explain how have benefited from careers, employability and enterprise activities
All key stage 3 students and their parents are invited to attend the Life Beyond School event in the Spring term which features representatives from a range of future possible destinations including colleges, training providers and social provision.
Students take part in the KS3 employers event which is attended by McDonalds, West Mercia Police, Droitwich CVS, NHS.
KS4 Careers and the World of Work Curriculum Overview

Year 10

ASDAN PSHE short course:

Module 3 - Careers and Your Future

ASDAN Enterprise short course:

Module 1: Entrepreneurial Skills
Module 2: Generating Enterprising Ideas
Module 3: Enterprise Planning
Module 4: Enterprise and Business
Module 5: Your Enterprise in Action
Module 6: Your Enterprise Evaluation

Year 11

ASDAN PSHE short course:

Module 7 - Economic Responsibility

OCR Employability Skills:

Unit 1 - Assess work for myself
Unit 2 - Learn about managing money
Unit 3 - Prepare for and learn from a job interview
Unit 4 - Know how to complete a job search
Unit 5 - Provide personal information for employers
Unit 6 - Know about health and safety in the workplace

Students working on the achievement continuum within Entry Level 1 take part in Life Skills, Enterprise and Independent Living Skills sessions.
All Key Stage 4 students and their parents are invited to attend the Life Beyond School Event
Year 10 students attend the World Skills Show, NEC
Year 11 students attend Worcestershire Skills Show
Year 11 students attend a workshop run by Worcester Apprenticeships
Year 11 leavers attend open days and induction sessions at their chosen destinations
Year 11 students take part in CV and Interview workshops run by JobCentrePlus and Droitwich CVS
Individuals take part in alternative curriculum sessions at Abberley Care Farm and Nineveh Ridge
Year 11 students going into the sixth form take part in transition sessions.
Post-16 Careers and Transition Curriculum Overview

Level 1

Learners

Preparation for Work
Health and Safety at Work
Exploring Job Opportunities and Labour Market Information
Individual Rights and Responsibilities at Work
Introduction to Customer Care
Maintaining Work Standards
Enterprise Project

CoPE L1 Module 6: Vocational Preparation

EL1-3

Learners

OCR Life and Living Skills:

Skill Area: Environment and Community
Skill Area: Home Management
Skill Area: Office Practice
Skill Area: Personal skills
Skill Area: World of Work

Weekly Enterprise and Work Skills lessons

Students working on the achievement continuum within Entry Level 1 take part in Life Skills, Enterprise and Independent Living Skills sessions.
Post 16 students take part in personalised career and transition packages dependent on their needs and aspirations
Post 16 students and their parents are invited to Life Beyond School and termly coffee mornings
Post 16 students attend World Skills Show and Worcestershire Skills Show
Students take part in work experience on-site
Some students take part in work experience off-site including Gatsby Café, WMSP and ShoeZone
Students work in our award-winning community café- The Blossom Tree
Students visit workplaces, colleges and social care providers
Taster sessions at MENCAP, BMET, Ourway and Kidderminster College
Visits to community facilities and travel training
Year 12 students take part in NCS residential
Our careers team:
Rebekah Thompson - Careers Leader
Tom George - Careers and Transitions Advisor
Rachel Wright - Upper School Phase Leader
Sian Ackerley - Middle School Phase Leader
Please follow the link to contact us if you have any enquiries.
The Blossom Tree Café
| | | |
| --- | --- | --- |
| | | We are proud to offer our KS5 students the fabulous opportunity to work in our award-winning café. The Blossom Tree serves the local community in Springfield Park for three sessions per week. Our students develop and apply many skills in a practical, real-life situation. These include money handling, time-keeping, health and safety, work skills, communication and social skills, to name but a few. |
Careers and Transition Advice
Our Careers and Transitions Advisor (CTA), Tom George, provides impartial careers and transition support to students and their parents.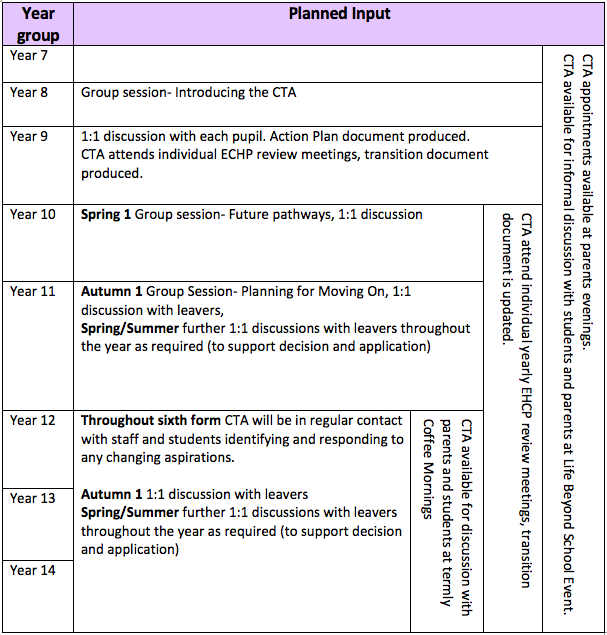 For more information, please click on the links below:
| | |
| --- | --- |
| | |
| | |