Our Learning
Curriculum Statement - supporting the return to school Autumn 2020
Please click here to read our Curriculum Statement.
Curriculum Rationale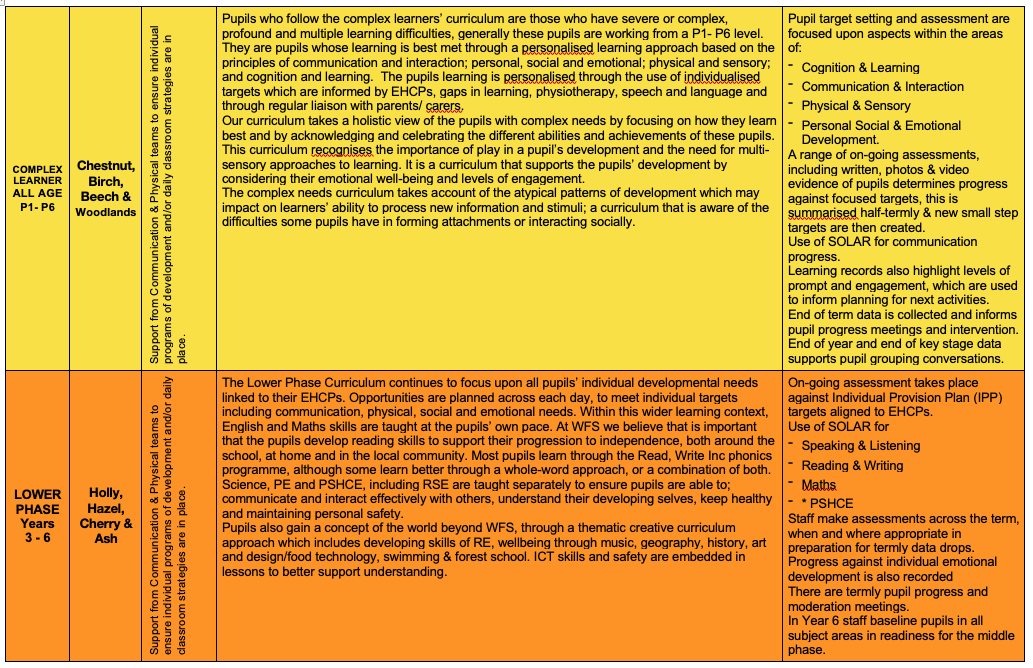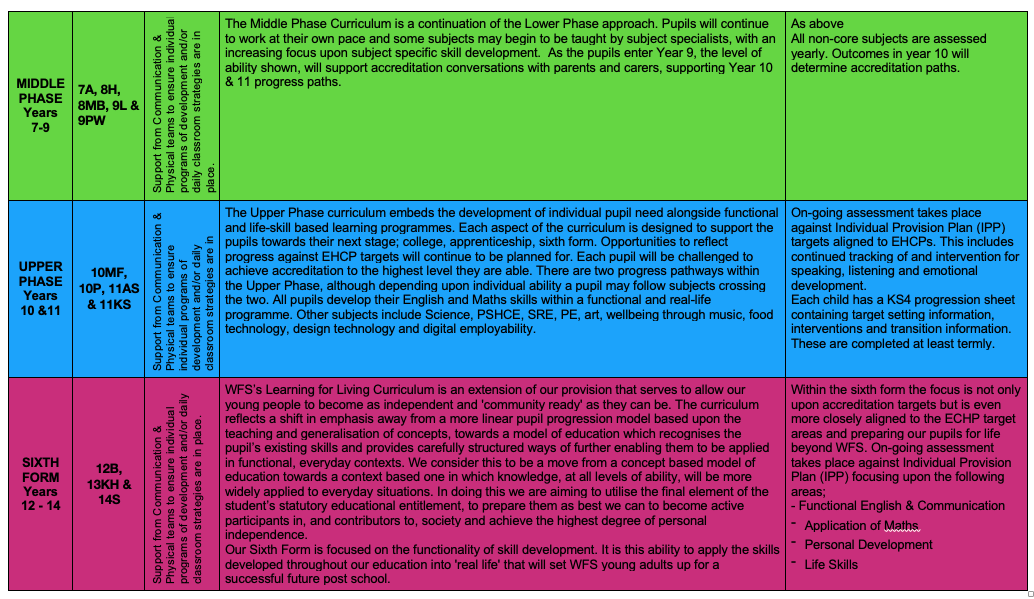 Our curriculum at Wyre Forest School is broad and balanced and is aimed at developing an educational experience that is responsive to each learner and prepares pupils for adult life. Staff plan creatively and imaginatively against the key variables of pupil need, individual strengths and interests, pupil levels, national government and accreditation expectations. The curriculum focuses on developing the key skills of communication, cognition, independence, physical development and self-care, all transferrable skills that equip children and young people for life beyond school. Therefore when we use the term curriculum at WFS it is in the broadest sense and encompasses individual pupil targets that are based upon pupils' priority needs.
To ensure we accurately meet pupil need we work closely with parents/carers and a range of therapists and health professionals to create programmes for individual pupils that we embed within the school day.
We recognise that the majority of WFS pupils are socially vulnerable and need to further develop a sense of their own well-being. For this reason we prioritise Personal, Social, Health & Careers Education (PSHCE) including Computing & Online Safety to further develop knowledge and skills linked to relationships, health and a secure knowledge of the world beyond school. We have also introduced Music sessions to support pupils in developing a knowledge of themselves, building connections with others and regulating their own emotions. Forest School and Learning Outside The Classroom sessions further support pupils' wider skill development, including opportunities to develop communication, social and physical skills.
The curriculum in each phase adheres to the age and level of each pupil and National Curriculum or accreditation expectations. This includes a level appropriate curriculum for our pupils with severe or profound and multiple learning difficulties. Lessons are taught in class or subject groups. Each phase has its own curriculum map that reflects either the theme focus for the term/half-term or the accreditation routes the pupils are following. Where there is a theme, this is the vehicle for developing learning in an engaging and creative way. Communication, English and Maths skills are embedded. Curriculum maps are shared with parents half-termly.
Please see our dedicated reading page.
Maths is taught throughout the school in a progressive way, with a very visual approach using real objects, moving to the more abstract and formal approaches. Lessons are planned using real-life experiences and move to Functional Maths accreditation higher up the school.
At WFS we recognise the importance of regular exercise to support pupil health and well-being development. All pupils receive two PE sessions a week. One of these may be swimming. Some pupils will also receive additional swimming sessions as part of their physiotherapy programmes from their EHCP.
Upper School accreditation routes range from ASDAN Personal Progress at Entry Level 1 to GCSE options. Subject content support the continued development of key communication, English, Maths and Science skills and pupils choose options from creative subjects; Art, Design Technology & Food Technology, completing courses at relevant levels.
The Sixth Form curriculum - Learning for Living curriculum is individualised with each student's Individual Provision Plan at the centre, accreditation for functional English and Maths at either Entry Level or Level 1, OCR Life & Living or ASDAN Personal Progress. Plus development of independent living skills and skills for life though supported work-experience opportunities, e.g. at Blossom Tree Cafe, the allotment and wider life skills such as using public transport.
Pupils who attend Russell House work closely with class teachers to support pupil progress and IPP development. Staff at Russell House plan opportunities for pupils to work on individual targets and continue to develop a wider Life Skills based curriculum that is accredited through ASDAN - Life Skills Challenge.